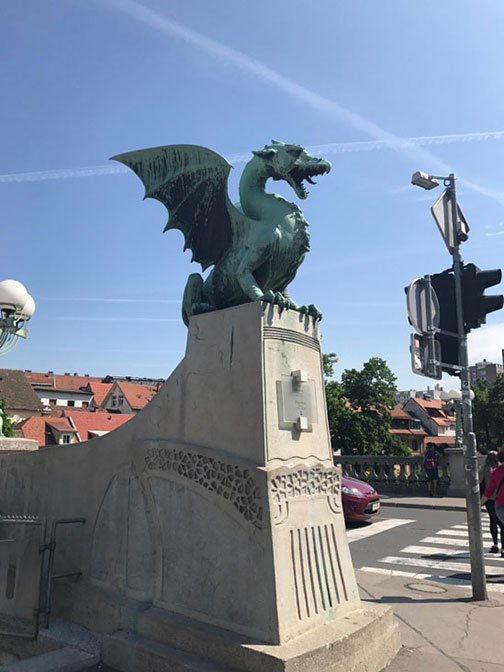 The dragon is the symbol of Ljubljana.
In May, 2018, Bob Eisenstadt of Kamishibai for Kids and Tara McGowan were invited to present at the International Symposium The Art of Kamishibai: The Word of the Image and the Image of the Word in the magical city of Ljubljana in Slovenia.
There are few places where kamishibai has taken off to the extent it has in Slovenia, thanks in large part to the inspiring work and dedication of the "Mother and Father of Kamishibai in Slovenia"—Jelena Sitar and Igor Cvetko. Notably, Slovenian kamishibai is distinguished by an emphasis on song and poetry. Tara McGowan asked them to contribute an interview to the Kamishibai for Kids website to share their experiences and plans for the future of kamishibai in their part of the world.

Tara McGowan with Jelena Sitar and Igor Cvetko.
Igor Cvetko is an ethnomusicologist, working at The Institute of Ethnomusicology at The Slovene Academy of Sciences and Arts. He is especially interested in Slovenian children's traditions and has published about 15 books on the subject, most of which he illustrated himself.
Jelena Sitar is a dramaturge, director, pedagogue and publicist, devoted to all aspects of puppetry. She has directed over 50 performances in professional puppet theaters, was an artistic director of the biggest Slovenian-Ljubljana puppet theater, and is at present associate professor at The Faculty of Pedagogics at the Primorska University of Koper, teaching theater, puppetry, and also kamishibai.
Tell us a little something about your background:
The name of our theater, which we established together a few decades ago, is Zapik. It means a moment in children's play when all the rules stop. If you touch a tree, or a partner or ..., you "leave" play, you cannot be caught any more, you are safe.
In Slovenia, Zapik is known for its interactive, chamber (i.e., small-scale), and minimalistic puppet performances. Combining artistic and theoretical approaches has made our performances a part of wider projects (books, workshops...). The main source we used in our work and performances was children's finger plays, games, and stories. In the performances, we use a few props, scenography, and puppets, and we use them in all possible ways. We combine minimalism as an aesthetic approach with interactive ways of performing. If we want to play, children must be our partners in the game. We love to communicate with our audience, improvise, and this is the reason that we perform for a limited number of spectators. A big challenge is to perform for very little children.
We live and work in the beautiful city of Ljubljana, the capital of Slovenia. The city is located at the foot of the Alps and close to the Mediterranean Sea; by car it takes two and a half hours south-west to Venice and three and a half hours north-east to Vienna.
We perform all around Slovenia and are also a part of international festival selections. One of our best-known puppet performances, The Mouse Makes Porridge, has been performed in UK, in Europe (Austria, Switzerland, Italy, Norway...), all over the Balkans, even in Kazakhstan. In 2016, we were invited to present it in Washington, DC, USA, as representatives of Republic of Slovenia in the Festival Eurokidse–EU art for children.
Our professional work as puppeteers started in 1982, directing together in Ljubljana puppet theatre. The play was Doctor Faust, a performance with 10 cm tall marionettes on the stage of similar dimensions as butai, the kamishibai stage. The work on Faust—a big story in a little space—was the reason that we married the same year!
How did you first find out about kamishibai?
As already mentioned we had a great experience in micro-theater form with our Dr. Faust, in 1982.
The first performance of Zapik theatre was a folk story from Resia Valley, a small Slovenian ethnic group in nearby Italy, an Alpine area, where archaic traditional music and storytelling are especially well preserved. As an ethnomusicologist and active violinist, Igor provided authentic music for the show. The story was performed in a very simple puppet stage frame, with simple flat puppets in it. After 20 years, we found out it was practically the same as butai — the stage used in Japan to perform kamishibai.
There was also an interesting performance Zapik did with finger puppets on a tiny stage for only four spectators: two adults with two children sitting on their laps. The whole "theater" was a little tent — a small black cube in which we performed a few minutes-long performances with finger puppets on a miniature scene lighted by two candles only. Magic!
So – our interest and work on oral tradition, performing minimalistic and with small puppets on the table, good interaction with audience, and all the time using visuals, led us to kamishibai, which has all those same characteristics.
What made you want to start performing kamishibai?
We see kamishibai as a work of art in all its aspects. We found kamishibai as a specific art form, uniting different art branches. We love and admire kamishibai's creative potential and possibilities. From 2013 onward, Zapik theatre (Igor and Jelena) has been the leading power behind the kamishibai movement in Slovenia.
It is a joke, but also the truth — Igor finds the right direction and Jelena is a motor of Zapik's actions. Some 12 years ago Igor, as a researcher, found kamishibai on the Internet. Then he started to google and read about it. Nine years ago, for their anniversary, Jelena bought him a ticket to visit his family, living in Hokkaido, Japan. He brought home 10 kamishibai stories published by Doshinsha, and, in 2013, we were ready to perform kamishibai for the first time publicly.
Today kamishibai in Slovenia is a big movement.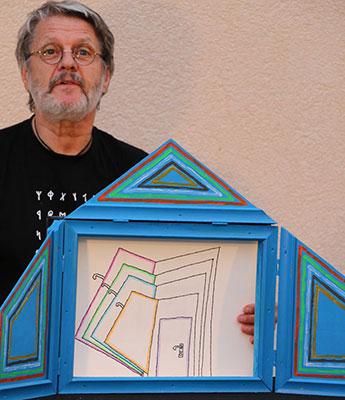 Igor performing.
Igor is known as the "papa of Slovenian kamishibai" and Jelena is the "momma." We are busy studying kamishibai, creating our own original stories, conducting seminars and workshops for puppeteers, fine artists, storytellers, teachers, librarians and therapists all over Slovenia. We find enthusiasts living all around Slovenia, willing to make and perform kamishibai. Since 2013, we have held more than 30 kamishibai workshops, organized gatherings of kamishibai fans, orchestrated kamishibai research camps, and have already organized five national kamishibai festivals in Piran, a beautiful old town on the Mediterranean coast. Zapik's most ambitious action by far was the idea of organizing an International Symposium of Kamishibai in Ljubljana at The Slovenian Theatre Institute in May 2018.
Love and enthusiasm, knowledge and experience in different sorts of arts and recognizing kamishibai as a serious art form, has enabled Zapik to develop into a group of enthusiastic artists who have already achieved serious results (Jure Engelsberger, Jerca Cvetko, Martina Ljubič, Silva Karim, Boštjan Oder, Vanja Kretič, Breda and Darko Kočevar, Špela Pahor, Tatjana, Enja and Maja Grabrijan, Marjan Kunaver, Irena Rajh...). Through our work, people soon became aware that kamishibai could be a great pedagogical tool, and soon they were bringing it into kindergartens, schools, faculties, and libraries. It is also an effective therapeutic device to use in hospitals and with people with special needs.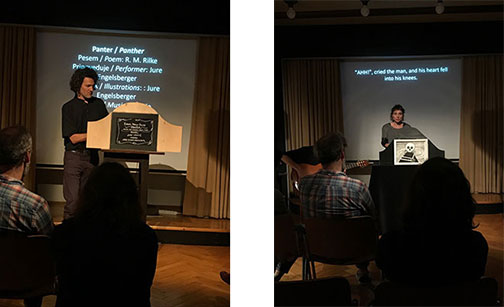 Jure Engelsberger and Jerca Cvetko performing a program of kamishibai for grownups.
On May 9, 2018, a day before the international kamishibai symposium in Ljublana, kamishibai was performed all over Slovenia — for 24 hours straight! And the result (all documented on the web):
there were 775 kamishibai performances performed in 24 hours all around Slovenia, and
the number of spectators exceeded 35,442!
When IKAJA organizes "World kamishibai day" in December, 2018, they can count on Slovenia!
National Festival in Piran
Already by the end of summer 2013, there was enough live kamishibai production in Slovenia that Igor and Jelena organized the first national festival of kamishibai in Piran. At first there were 13 festival performances on the program. On the program of our fifth Piran national festival (2018) there were 44 performances in the selection. We had performances for families in the evenings and organized a night program just for adults.
The Festival is held in a miniature square called "Jewish Square" in the middle of the city; acoustically, it is the perfect place. Every year, we have been welcomed there. People (local Slovenians as well as tourists from abroad) visit the place. The performances are very warmly received by kids as well as adults. They all mention the special sense of "kyokan" (shared feeling) that is spread around on all three evenings of the Festival.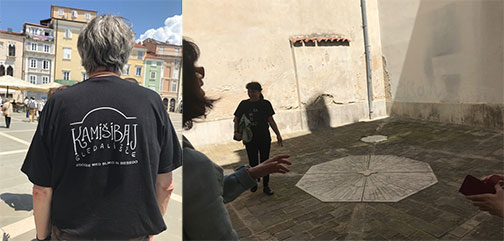 Igor and Jelena, showing symposium participants Piran and "Jewish square."
Under the influence of our national festival in Piran, people from around the country have prepared a series of regional festivals, organized by local enthusiasts and our fellow kamishibaiya. We have presented kamishibai and have taken it also to the neighboring countries with workshops in Italy (Gorizia), Croatia (Split), Serbia (Novi Sad), and Austria (Festival Krice- Krace). Our kamishibai friends also travel around and often perform outside Slovenia.
The best kamishibai from these countries will be the basis of our new International Festival we plan to start with this summer in Piran (2018). The national festival will start moving around Slovenia, every year in a different province, in order to strengthen and popularize the kamishibai movement.
We first visited IKAJA and Doshinsha's headquarters in Tokyo, Japan in 2015. They welcomed us and organized a promotional demonstration, just for the two of us. We made good connections with our Japanese friends, and we have been in regular contact since then. We have continued to improve and develop relations since then, especially after the visit of 11 kamishibaiya from IKAJA this May for the International Symposium in Ljubljana. On the occasion, being in Slovenia, our Japanese friends performed kamishibai more than 20 times all over the country and participated at the symposium.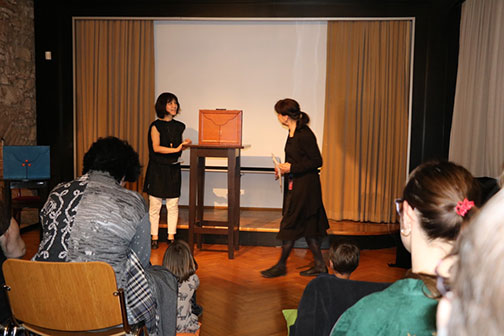 Etsuko Nozaka of IKAJA with Jelena Sitar.
Jelena Sitar and our daughter Jerca Cvetko visited Mexico's kamishibai and storytelling festival ACHII in Monterrey, where we gave some 40 performances. It was interesting meeting people there and experiencing their different ways of performing kamishibai.
How is kamishibai similar to and/or different from other storytelling forms that are available to you in your country?
Storytelling, as a traditional performing art in Slovenia, is very much recognized and alive. Every year, there is a storytelling festival in the most prominent spaces with large numbers of storytellers and big audiences of both children and adults. Storytellers and kamishibaiya, as we all know, treat stories differently. Storytellers cause pictures to form in the audiences' minds with their words. We, kamishibaiya show the pictures and share the space of the story with the words. Storytellers have 20 years of tradition in Slovenia; kamishibaiya five. We are now numerous and good enough that we were invited by them to join their programs. We know that we can learn from storytellers a lot, but they also search for new ways of presentation and sometimes use computer drawing while presenting their stories. Or pictures or objects...
Whom do you see as your audience for kamishibai?
Everybody! From two-year-olds to the elders in the institutions, schoolchildren, teenagers, students, families, people with special needs, patients in hospitals. All these are not just our audience, but also the ones who can create and perform "tezukuri" (hand-made) kamishibai themselves and even to show their creations to others.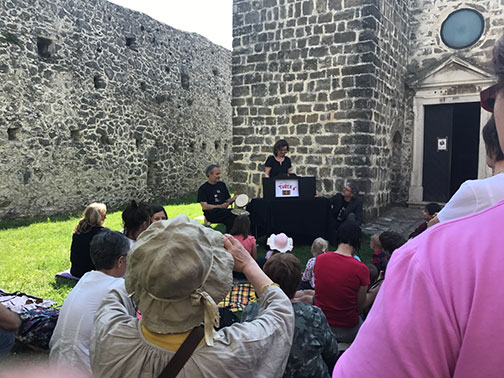 A husband and wife team perform outside a 16th century stone church in Slovenia.
What do you think kamishibai offers this audience and what has their response been when you have performed?
Today, in this time of visual communication, people want instant gratification... But sitting together and sharing emotions with the kamishibaiya and other spectators takes time and requires mutual connection and broad empathy. It is just a beautiful experience that brings you into a different world, separate from the internet and mobile culture of today.
If you really do your best (and usually you do) and tell the story well, it is a good way to achieve kyokan (shared feeling). Kyokan always emerges when the kamishiabaiya is sincere and true, when he or she really wants to present the story to the audience as important and unique. If the kamishibaiya is not performing the story, but is presenting (living) it, the audience can feel that. Then you have laughter, tears, thoughts. The knowhow and skill of drawing and performing are usually not the most important skills to achieve good kyokan. We have found that the most important thing is to have all the arts working together in a special balance in a special moment — in an authentic connection with the audience.
If a kamishibai performance succeeds as a piece of art, the audience at the end of the story is transformed in some way.
And when is a kamishibai really good?
When nobody can make it as you do, when it is unique &mdash" as the person presenting it himself/herself. After the kamishibai evening (7 to 10 performances in a row), people from the audience usually come and say, "And each performer was so different from the others!" Then we know that everything is good. An important factor of the big success of kamishibai in Slovenia is a good response to it from the audience. People simply love our stories. Today it is probably the right moment for kamishibai: staring into screens for hours where everything in front of you is digital makes people strive for real, analogic, and authentic communication. In spite of all technology, we are still the same as the people in all our history. And telling stories is one of the principal traditions of humanity. "To choose a story which will convey a message from the Truth of Life," as Noriko Matsui-san in her Kamishibai Q&A writes, "is a key secret to performing kamishibai." But there are also beliefs, emotions, love, fear...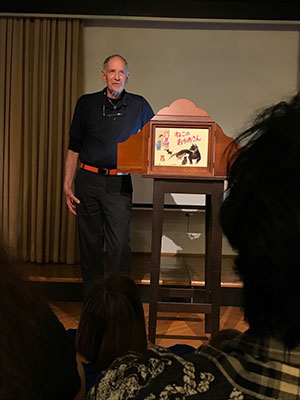 Bob Eisenstadt of Kamishibai for Kids, sharing a moment of kyokan with "The Mother Cat" by Watanabe Kyoko
Do you have a favorite story or kind of story?
"Tezukuri" (hand-made) kamishibai in all its forms is our favorite! We love more or less all of our stories. Jelena's favorite is "Pisana ptica" (The colorful bird). It is a poetic text she wrote some years ago for finger puppets. She made it in origami technique. She also likes "Grdina" (The Ugly) under the stone in a collague. And the performance for adults based on an old folk song "Weight of the Soul," where she used plaster, lace and natural material to compose the scene and then photographed it. Those performances have very different style and atmosphere, so also different interpretation.
Our stage is for the A3 format we use for pictures (cards); the difference is of about 2 cm on each side.
Igor's favorites are children's fairy tales from Val Resia, some old folk songs of Juri Vodovnik, sung by people for more than 200 years, and maybe the biographical kamishibai called The Devil's Thrill about a great violinist born in Piran, Giuseppe Tartini. His latest kamishibai is his own story called "The Sun that Rose Up Twice in One Day," from Lepenski vir in Serbia, an archeological site dated some 8 thousand years in history.
As artists, we find it interesting to create our own kamishibai from the first idea to the final performance. It is also possible for kamishibai performances to be created by two or more people (teller and designer) in a connected creative process. Some kamishibai in Slovenia are also accompanied with music.
But the "ticket" to enter the kamishibai festival in Slovenia is to make your own "tezukuri" kamishibai by hand. It is not allowed to perform already printed, bought kamishibai. Of course, this is not a case for pedagogic or therapeutic use. For us, the "tezukuri approach" means that we challenge ourselves, not only to perform a story, but also to make it ourselves. It is, we think, closely connected with our cultural tradition. Making your own kamishibai is a creative communication with ourselves, performing it is sharing, communication with others.
How do you develop your stories?
As an illustrator, Igor's strength is creating visual pictures; Jelena's strength is the verbal part, or the art of oral communication. So, we both have to work hard for the other part. We don't make a storyboard like in comics (even if we recommend and present Scott McLoud's method — recognizing it very useful). Igor has his own way to select and draw right moments and takes. Jelena uses more the way from film production (video, audio). Igor mostly draws and paints; Jelena uses more collage and plastic forms. While performing, Igor helps himself with the text behind the cards; Jelena simply tells the story. We avoid big drama, and never use costumes. The exception is when Jelena goes on the street performing "gaito kamishibai" which has different rules than the kamishibai as a form of chamber theatre.
We are artists, and kamishibai for us is an art form. So, we always make our own kamishibai story or make an adaptation of a story that resonates for us. Then we always try to find our way to approach the story and its visual presentation. How to develop the storyboard, how to make and lead the characters, how to treat story space, how to create suspense... you decide the style and the proper technique every time anew.
Then you try to find the way to make your pictures. We have learned some important things from puppetry; we have borrowed some from other arts (knowing that kamishibai is a very special form) and at the same time try to discover our own, personal way. Such a creation takes hours and hours to get proper results. In this time, you enter into the world of the story, in its deeper layers. This is also an opportunity to be in a special communication with yourself, which helps you a lot afterwards, when you start presenting your kamishibai.
Of course, at the end you have to rehearse, to find out right moments of pulling the pictures, to decide the rhythm, to decide the way of telling the story, find out the right characters, adjust the narrative arc... Here we find very useful the IKAJA's kamishibai "bible" How to Perform Kamishibai Q&A (Noriko Matsui). The book is a good teacher, but the task of student is that he/she finds his/her own way of doing it. If you do art, you have to develop and surpass the form, as the "traditional form" of kamishibai has developed in its history.
Do you make your own stages? How do you use the stage in performance?
We always use the stage, butai. For us, it is not just the point of focus, it is also the space of a story and our personal connection with kamishibai itself. By using a framing method from film, audiences believe, that "a big hand belongs to a much bigger person behind the frame." The frame is the condition for the framing, isn't it? Pulling one picture (card) after another is taking the audience deeper and deeper into the story. If pictures (cards) are held in front of the narrator, we partly loose this magic. And one more important thing: having the stage on a table, you can come very close to the picture you are talking about, or you can look at it from a distance. We talk about little differences, but on the stage everything is a sign and every move, even a tiny one, is important.
Butai in Slovenia is a very personal choice. We use different stages. Most of them are made of wood by friends or relatives who know how to work with wood. Many of them are made by masters (some of them even earn some of their living by making Butai in Slovenia is a very personal choice. We use different stages. Most of them are made of wood by friends or relatives who know how to work with wood. Many of them are made by masters (some of them even earn some of their living by making butai). There are some firms that already sell butai. We are happy that most butai are uniquely painted, very carefully, on the outer side of the door. We decided to use stages that are a little bigger than Japanese do. Our stage is for the A3 format we use for pictures (cards); the difference is of about 2 cm on each side.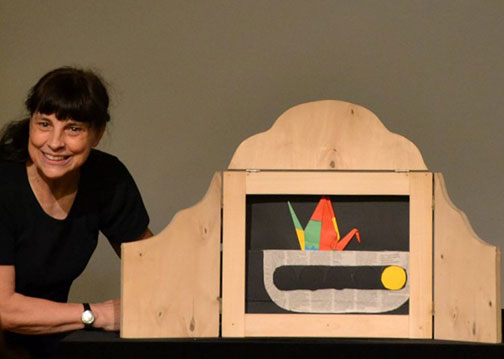 Jelena performing "Pisana ptica" (The colorful bird).
We have also designed some stages on wheels: 2 or 3 bicycles in Slovenia and one cart. Jelena made her gaito (street-performance) stage from an old merchant trolley used by ladies to go to the market for buying things and an old cosmetic cardboard, which had exactly the same measures as Japanese butai for kamishibai. What a coincidence!
What are your plans going forward for performing kamishibai or making them available to others?
Summer is the time of festivals. Just now we are back from the International Art Festival Floating Castle, where nine of us did 45 kamishibai performances.
Each of us has some stories waiting for the right moment to become kamishibai. We are preparing our papers from the Ljubljana International Symposium to be published. We have to finish our new book The Art of Kamishibai by the end of 2018.
From August 17—19, 2018, we will have our 6th National Festival of Kamishibai in Stanjel. This year, we will just perform in this event. But a week later we start with the 1st International Kamishibai Festival White Dolphin in Piran. It will be accompanied with a 4-day master class, where we will focus on silent books and kamishibai. In Piran, from this year on, the winner will be voted by the audience.
Next year, we plan to conduct at least four new kamishibai seminars.
Jelena Sitar and Igor Cvetko