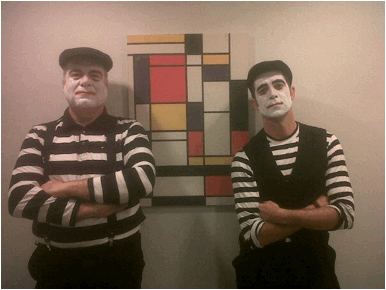 John Henry Moorcroft and Paul Henry Zarraga are both from the middle of England, John hailing from Birmingham in the West Midlands and Paul from Loughborough in the East. They have been working in ELT (English Language Teaching) for many years teaching in Turkey, Spain, Britain and the Middle East. They are currently marketing ELT materials for Cambridge University Press in Istanbul and making occasional appearances showing the lighter side of ELT under their middle names John Henry and Paul Henry--the Henry Brothers. They also have a blog called The Henry Brothers Jim Jam Slam, which looks at storytelling, poetry, drama and other ELT related curiosities:
http://thehenrybrothers.wordpress.com/2011/07/11/who-are-the-henry-brothers/
- Interview with Tara McGowan -
How did you first find out about kamishibai?
We first found out about kamishibai through Allen Say's wonderful book Kamishibai Man – great story, wonderful illustrations and indeed a beginners guide to Kamishibai. Based on the illustrations we made a kamishibai theatre out of papier-mâché--of all things. We did further research and found Kamishibai for Kids and your own website and we read the articles you had written about kamishibai and its history.
What made you want to start performing kamishibai?
We've been working in ELT for many years and with many of our lower grade books there are story cards. We love the shared aspect of storytelling – sitting in front of a group of children and using the cards to illustrate the stories. However, when you use story cards in this way your hands our full and we both like to be quite animated when we're telling our tales. Body language, facial expressions, movement are all very important and the kamishibai theatre lends more of a sense of drama, a sense of theatre to the telling. It becomes much more kinaesthetic, more visual, more appealing and you can really involve the listener.
So it was a case of wanting to marry the story cards we already used with the performance of kamishibai. And we also like the tradition behind kamishibai. There's still room for traditional storytelling despite this being the digital age and this is a theme brought home wonderfully in Allen Say's book.
Do you make-up your own stories and props? Do you have a favourite story or kind of story?
As I said before, we've been using a homemade theatre, which John made from papier-mâché. In the past we often made props, masks, etc from papier-mâché, and it's something we enjoy doing. However, we're now having a theatre made by a local woodworker who's making it to our specifications. Very exciting.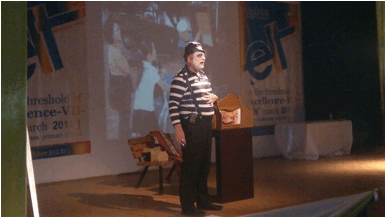 John at an ELT conference with his kamishibai stage in 2011
This was our first year using our theatre and spreading the word about Kamishibai. We presented at a lot of ELT conferences in Turkey and performed a talk called "Kamishibai Man." The talk included a number of different stories but was based around Allen Say's book, which we told in kamishibai fashion. We had our kamishibai theatre on the stage and we also used PowerPoint as the audiences were quite large, averaging 200 to 300.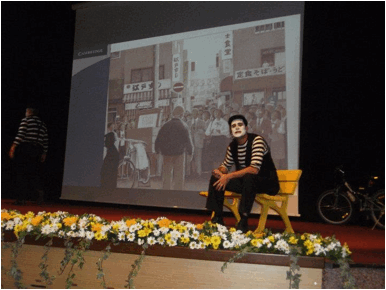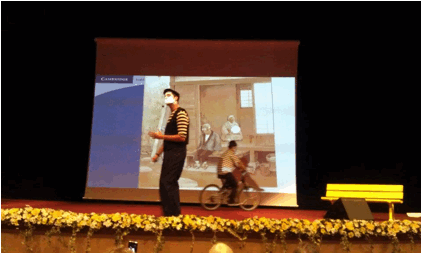 Allen Say's "Kamishibai Man" in PowerPoint and Performance
We like folk tales like Stone Soup, Seven With One Blow, The Shy Dragon, The Tea Master and the Samurai, and being based in Turkey, we like the tales of Nasrettin Hoca. Turkey has a tradition of storytelling theatre in the form of Hacivat and Karagoz; shadow puppets similar in some ways to the antics of Punch and Judy in England. Hacivat is the clever aristocrat and Karagoz the simple peasant. There was also a tradition of professional storytellers or Meddah who often performed in coffee houses and used mime, comedy and theatre as a staple of their stories.
We also like performance poems – Michael Rosen's 'Bear Hunt', John Foster's 'Football Story' to name but two and we're going to add Peach Boy to our repertoire – a more traditional Kamishibai tale.
Whom do you see as your audience for kamishibai and what do you think kamishibai offers this audience?
Working in ELT and as teacher trainers our audience is English language teachers, but as The Henry Brothers we also do English language shows for students from KG to high school. So, we'd like to take Kamishibai into the classroom and work with 1-4 graders.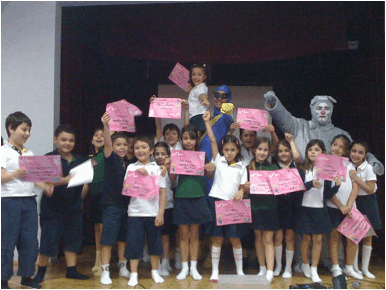 The Henry Brothers as The Maskman and Monty in the Kid's Box Road Show
We've met with a lot of interest from the conferences we've attended and subsequently through our blog. Turkey is a country with a rich storytelling tradition and so our audiences can easily appreciate the benefits of kamishibai. And it's nice to show them an alternative to sitting the kids in front of a dvd or the computer to watch yet another animation. A lot of teachers have said that they find kamishibai more involving, a much warmer medium – and also a cartoon is always the same; a story told by a storyteller can change with each telling and this obviously has a lot to do with the audience and the way the teller feeds off them.
Teachers also like the idea that pupils can draw and paint their own storytelling cards and then use the theatre to tell their tales to the rest of the class.
What are your plans going forward for performing kamishibai or making them available to others?
Once we've got our theatre back from the carpenter, Turkey is our oyster. We want to take the show to a wider audience and to smaller groups. We want to present workshops on the art of kamishibai and explain the mechanics of storytelling in this way. We both think it's a refreshing alternative to the streams of digital material flooding the market. Sure there's a place for technology in the classroom but kamishibai offers a much more human and personal approach to the spoken word and stories. It's this message that we want to get across. We'd also like to organise a storytelling conference, maybe in Istanbul where we can showcase kamishibai.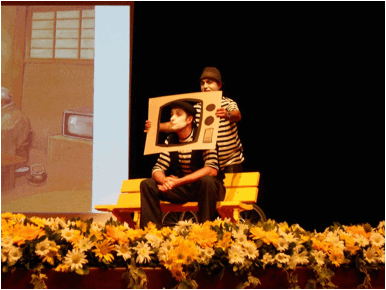 "There's still room for traditional storytelling despite this being the digital age."
For more about the Henry Brother's various characters and performances, be sure to visit their blog:
http://thehenrybrothers.wordpress.com/2011/07/11/who-are-the-henry-brothers/