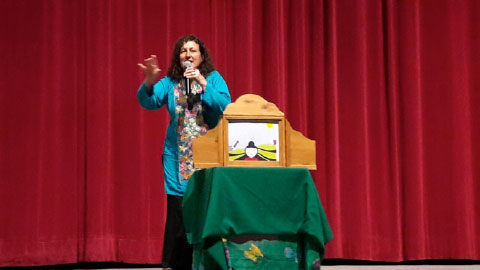 Tell us about yourself, your childhood, overall background, and current occupation.
My name is Marisa Alicia Lanteri but my stage name is La Mariposa Andariega (Butterfly that likes to go to one place after another without stopping). I was born in La Plata, capital of the province of Buenos Aires in Argentina. I am the 4th child of 5 kids, and both of my parents worked in public administration. When I was three years old, we moved to live to Joaquin Gorina a suburban town with many vegetable gardens and also a Japanese colony where they grew flowers called Los Porteños. I studied kindergarten and primary school in J. Gorina and afterwards I went to junior high school in the city of La Plata, traveling everyday 45 minutes in a bus.
During my junior high school I had a Japanese schoolmate, with whom I maintain friendship until today. When I finished my studies I worked as an employee of a firm that had commercial relations with Japan. I remember that the end-of-the-year cards came with beautiful rice paper, and I asked them to keep them. After the company closed, I worked for many years as a teacher in primary schools. In those years I told stories with flipchart images. While studying Social Work, I was a member of a puppetry troupe. I have lived for the past six years in Capilla del Monte, province of Córdoba, where I continue to work as a teacher and participate in other theater and puppetry groups. I also have taken part in singing workshops.
How did you first find out about kamishibai?
I discovered Kamishibai because of a teacher friend who traveled to Mexico to an Encounter of Educators, where there were Japanese teachers who used Kamishibai in their exhibition. My friend asked them how to work with it, and she ordered two Butai (stage) one for her and one for me.
What made you want to start performing kamishibai?
After telling stories with the flipchart and having participated in the puppet troupe, I felt that Kamishibai was a perfect synthesis, which integrated the many arts with which I had been working for some time.
How do you develop your stories?
So far I use stories of Argentine authors mostly and make reproductions of images, which I perform with various techniques: collage, painting, drawing. I read the story and I choose the images that I want to accompany the narrative sequence.
Do you have a favorite story or kind of story?
I like the stories that convey historical facts, stories of Maria Elena Walsh for example.
Whom do you see as your audience for kamishibai?
To all public, from kids to adults.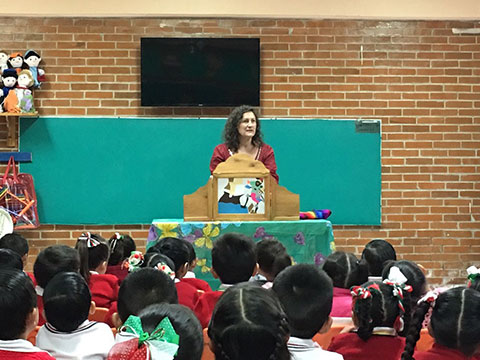 What do you think kamishibai offers this audience and what has their response been when you have performed?
It offers the possibility to enjoy a unique moment of concentration, introspection and amazement. The answer is wonderful, and the audiences convey their profound joy, not as fun, but to have been part and discover a new way of listening, a real enjoyment in the way of transmitting the stories with kamishibai.
How is kamishibai similar to and/or different from other storytelling forms that are available to you in your country?
It is different. The image adds a benefit that oral narration does not have in general. It is for children, in particular, like a magic act, the appearance of each card. Similar to the flipchart, but the Butai gives it a unique frame.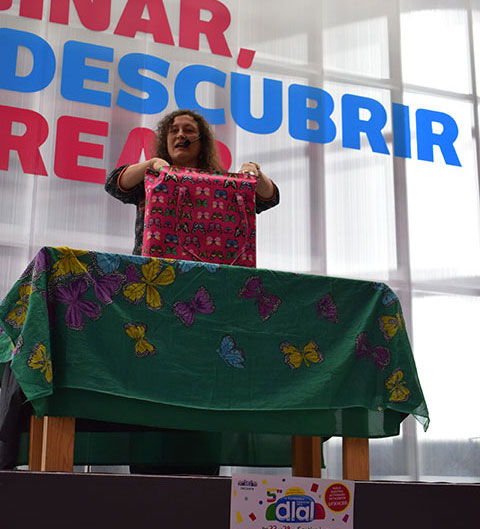 What are your plans going forward for performing kamishibai or making them available to others?
I plan to continue to tell stories, build stories of my own, and offer workshops so others can use it as well. I hope to continue having personal training spaces and to go to Japan.
Is there anything else you would like to add?
There is an Argentinean singer-songwriter poet Athaualpa Yupanqui who traveled to Japan and wrote the book Del Algarrobo al Cerezo (From the Carob tree to the Cherry tree). He also influenced my affection for Japanese culture, and many times when I start the narration I tell a story of his authorship.
Facebook: https://www.facebook.com/La-Mariposa-Andariega1571591443060083/?ref=bookmarks