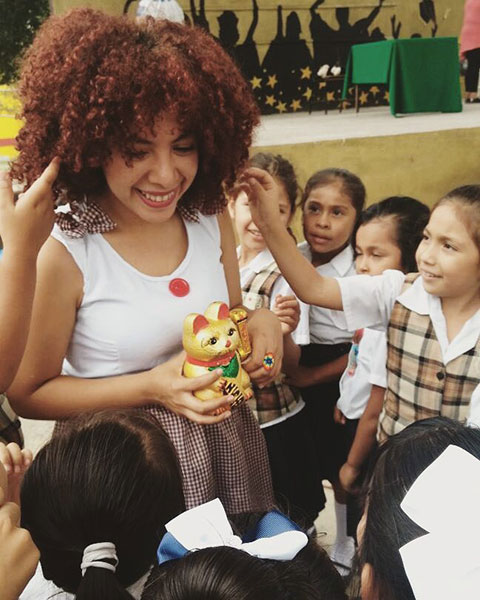 Tell us about yourself, your childhood, overall background, and current occupation.
My name is Laura Yanes. I am 22 years old, and I live in Tegucigalpa, which is the capital of my country Honduras. I graduated from the National School of Dramatic Art, and I dedicate my life to artistic creation in the field of performing arts.
It takes a little work to remember my childhood. I remember growing up with my mother and my brother; we were always a very small family, in a house, a little bit like us. I learned to read at a very early age and that gave me a lot of strength in my school and in my life. I read anything I could and, since I did not have much access to children's literature, I even read my mother's self-help books, which gave me a very early idea of people's behavior. But in the end, I did relatively well.
By coincidence, I met a mime on the street one day, and I thought I would do that. I told my mother, and she happened to know a guy, who made circus shows. I asked him where he had studied, and he gave me the number of the theater school. I was thinking that I would only take a course for maybe a month, and then, a week after I was in school, they assigned me a dramatic monologue. I did not even know what that was, but when I investigated, I realized that it was a school to study acting. I never thought that is where I would end up, but the place was so wonderful and challenging that after two weeks, I had fallen in love and wanted to stay there and undertake what has been the most beautiful mistake of my life.
At the moment, I am a teacher at the National School of Dramatic Art and director of a theater troupe (Teatro de los Tres), which, especially this year, has been dedicated to young audiences.
How did you first find out about kamishibai?
I saw a Kamishibai presentation by a Mexican narrator named Maria Teresa Farfán at a theater festival in Honduras.
What made you want to start interpreting kamishibai?
When I saw the technique I thought it was beautiful. I saw it as an opportunity to hear many stories, to return to stories and above all, as something I could share with others.
What I found beautiful about the Kamishibai was its simplicity. The children could enter into the magic of the story with such basic elements. It was exciting for me to know that children, despite the massive impact of the TV and various such great technologies, could sit down and listen to a story together. That's what I like most about Kamishibai, that it brings us together.
From its origin, Kamishibai emerged in periods of crisis, starting from nothing and creating much. I really liked the origin of the Kamishibai, its transformations and the impact it has caused where it is presented and, therefore, I wanted to be part of it.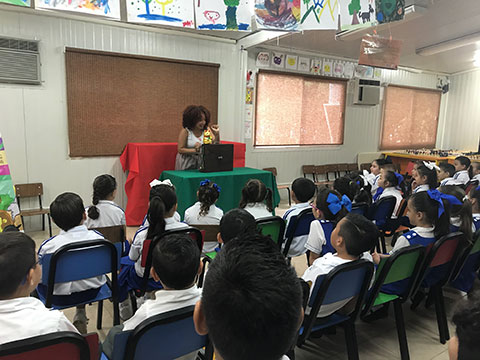 What made you decide to use a maneki-neko in your performance to help your audience open the stage?
Well, in my Theater School I was always taught that the information that you were creating on your own would never be enough, so I researched a lot and got to know very nice things about Japanese culture and arrived at the Maneki-Neko. I read about it and I liked it, but I did not think about including it until one day I went to an Asian restaurant and I saw it. So I thought, the children of my country would be familiar with it, because they have visited places where it is. So to approach what they know and contextualize it, I thought that Maneki-Neko would be a very good companion for adventures and in fact, it has been.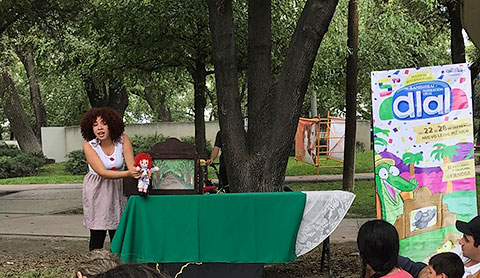 How do you develop your stories?
The stories I have adapted so far are stories taken from different authors, both European and Latin American. To choose a story, I try to adapt it to my context as a Honduran and therefore to the context of the public who will listen to it. After choosing, I determine which are the most powerful images generated by the story and from this I write ideas for illustrations. As I make a Kamishibai, accompanied by elements of toys, then I also go through the process of identifying the characters. I look for either stuffed animals or dolls to represent them, and I make them their wardrobes and accessories according to the color palette I choose for the story.
I memorize the text, I solve and adapt the situations given by the text, and I practice it many times before I perform it publicly. I use published stories, particularly, I am struck by those that draw upon emotion and if they are multicultural.
Do you have a favorite story or kind of story?
I really like a story called "Empty" about a girl who feels a great vacuum in her stomach because of a loss. She looks for many ways to fill it, some good and some not so much, until she decides to look at herself and to pay attention to what she feels and believes.
Whom do you see as your audience for kamishibai?
Generally the stories I tell are for children between 7 and 12 years.
What do you think kamishibai offers this audience and what has their response been when you have performed?
I believe that the Kamishibai offers the opportunity to believe in magic and offers a bridge to reading, not only because it is important to read, but also because it is fun. In my relatively small experience, the response has been very pleasant, with many smiles, wanting more stories, a lot of generosity and openness to listen and to be part of the story. I think it is great to use it in my country as a bridge to fun reading that leads you to imagine and create together.
How is kamishibai similar to and/or different from other storytelling forms that are available to you in your country?
It is sad to think about the answer to this question because in my country there are not so many options. Generally there is very little access to books. Books in bookstores are very expensive, and those that are offered in schools (public education) are workbooks, so the stories become an obligation and not a pleasure to read. I think the Kamishibai is a fun proposition and I think that in itself makes it different.
What are your plans going forward for performing kamishibai or making them available to others?
I would like in January of next year, 2018, to make a Kamishibai Workshop aimed at actors and teachers of elementary schools, and based on their results, make a collective of Kamishibai Storytellers.
Is there anything else you would like to add?
I am grateful for the opportunity of this interview. This kind of space is very important for me. I hope to continue the conversation:
Facebook: Lalito Yanes / Teatro de los Tres