Remembering Kyōko Watanabe
(1935-2019)
By Dr. Tara M. McGowan with
a tribute by Donna Tamaki and Kamishibai for Kids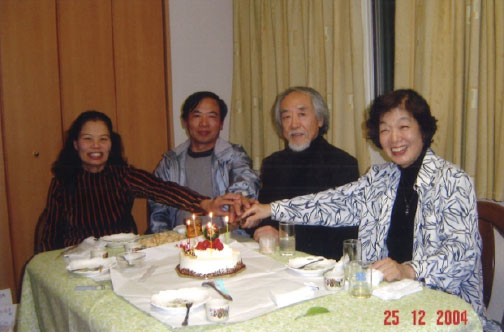 Kyōko Watanabe (far right) with husband Kōji with friends from the Vietnamese Embassy.
The world of kamishibai lost one of its brightest stars with the death of Kyōko Watanabe on January 3, 2019. Watanabe-san was born on April 8, 1935–Buddha's birthday, as it is celebrated in Japan. This seems appropriate because there are few people, who exhibited so much kindness and compassion. In 1957, Watanabe-san graduated from the art department of the Women's College of Art in Tokyo, specializing in Japanese painting. She was married to fellow-artist and book illustrator Kōji Watanabe.
Kyōko Watanabe is best known for her incomparable "Nya-on, the Kitten," which has been translated into German, Chinese, and English, and "The Mother Cat" (both of these have been translated into English by Donna Tamaki, follow). "I am a Horn Beetle" was translated into Korean and "Why Do We Give Offerings to the Moon?" is available in Vietnamese.
On left, "Nya-on, the Kitten" and, on right, "I am a Horn Beetle," both published by Doshinsha.
But Watanabe-san deserves recognition for many more picture books and kamishibai that have not yet been translated and are known only in Japan. She published a total of 36 kamishibai during her lifetime (25 for which she also wrote the script) and at least 7 picture books (all by other authors). She won the 25th Gozan Special Prize in 1986 for "The Rock Swallows and Old Man Oze", the 29th Gozan Prize in 1990 for "Nya-on, the Kitten", and the 40th Gozan Prize for "The Tigers' Gift."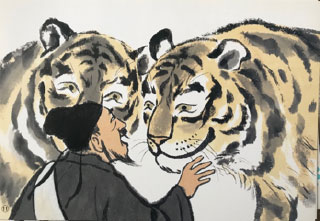 From "The Tigers' Gift" based on a Chinese folktale, published by Doshinsha.
I first met Watanabe-san in 2000, when I was in Japan to research kamishibai for the first time. She was a good friend of Kazuko Ute, with whom I was touring, and also of Eigorō Futamata, who was giving me weekly guidance on a story I was creating based on a rakugo-humorous oral tale. Watanabe-san invited me to her studio-home in Sakura-josui in Tokyo. It was on the edge of a park and there were many stray cats about, who no doubt had been inspiration for Watanabe-san's many cat stories. I remember that we joked about it at the time.
Her studio, which she shared with her husband, was a magical world of exquisite taste and creative industry. I would have been happy to just sit there, imbibing it all, but Watanabe-san immediately took an interest in what I was doing and generously gave of her time and expertise. I remember that she drew a whole page worth of Edo-period hair styles extemporaneously for me to follow when illustrating. She emphasized the importance of authenticity and research! Then she showed me several volumes of a children's book series she had done about the history of Japan.
When I visited her a second time in 2005, Watanabe-san had recently been in Hokkaido and had just published a kamishibai based on an Ainu legend. She encouraged me to illustrate American Indian stories because Japanese stories and folktales had already been done so much in kamishibai format. I asked her if there were difficulties in Japan around the issue of a non-Ainu artist illustrating a story about Ainu culture. Yes, of course, she replied, but that was why she had spent many months, living with the Ainu community and gaining their trust. I could see that Watanabe-san was uniquely capable of not just gaining trust but no doubt the love of the whole community! I have rarely met anyone with such quiet grace, humility, and gentleness of spirit.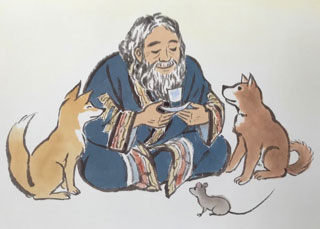 From the "The Stolen Talisman," an Ainu tale, published by Doshinsha.
Watanabe-san was deeply involved in the kamishibai world in Japan, both as an active member of the Children's Cultural Research Center in Tokyo and the Association for Promoting Kamishibai Culture in Kanagawa. What I was not aware of was how much she was involved in spreading kamishibai to Vietnam and Korea. In 1990 she traveled to Vietnam for the first time as a representative of the Association for Promoting Vietnamese Kamishibai. After that, she traveled there many times, deepening her friendships with the Vietnamese artists she met with each visit. The picture above is of Kyōko Watanabe and her husband Kōji, celebrating Christmas with friends from the Vietnamese embassy. The Watanabe's hosted their son, when he visited Japan, and she was apparently referred to as his "Japanese mother."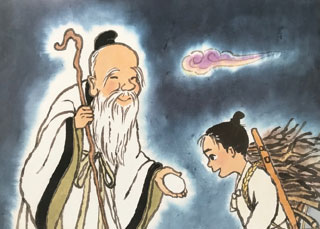 "A Gift from one of the Immortals," based on a Korean tale, published by Doshinsha.
Watanabe-san's generosity of spirit often led her to choose stories, championing the weak and oppressed. She devoted many of her kamishibai to environmental themes and the plight of endangered animals or to the people who tried to save them. When she heard the news story about the stray mother cat, who had braved the fire in New York city to save her kittens, she couldn't rest until she had researched and created a kamishibai story based on the event.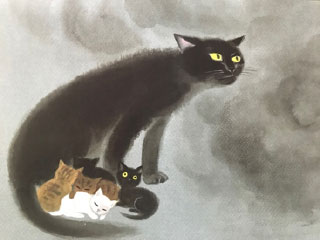 "The Mother Cat" A true story from New York City, published by Doshinsha.
Although her compassion was deeply ingrained in her nature, it also no doubt was deepened by her personal experience. On August 3, 2012, Watanabe-san marked the August 15th commemoration of the end of World War II at the Kagawa Community Center in Chigasaki by telling stories of her own experiences during the air raids, which became the basis of her 1993 kamishibai "Cosmos" (For the full article, see https://www.townnews.co.jp/0603/2012/08/10/154443.html).
She recalled to an audience of adults and children: "I was evacuated [from Tokyo] when I was in 3rd grade, and the atomic bomb that ended the war was dropped when I was in the 4th grade. I lost one of my best friends in the bombing of Hiroshima, and I was stricken by grief and sorrow. I never want anyone ever in the future to have to go through what I did then." Watanabe-san addressed the children in the audience, saying "The American forces flew over our heads in their big, roaring planes, and they didn't make exception for children like us; they attacked us all the same. I know it's hard to imagine now, but we have to make sure that war never happens in any country ever again."
When I contacted the Children's Cultural Research Center in Tokyo for more information about Watanabe-san, they kindly sent the picture of her but also sadly acknowledged that Watanabe-san was not very good at keeping records of her achievements. It is all the more important that her friends and family take this time to remember what we can and share our recollections so that her body of work, her warm smile, and generous heart may be remembered and cherished by generations of kamishibai performers, artists, and storytellers for years to come. To that end, I am happy to conclude with some recollections from Donna Tamaki, translator of "Nya-on Kitten" and "The Mother Cat," co-founder of Kamishibai for Kids with Margaret Eisenstadt, and long-time friend of Kyōko Watanabe.
Our Memories of Kyoko Watanabe:
Margaret Eisenstadt and I became acquainted with Kyoko Watanabe in the 1990s when we were visiting Japan to look for ways to bring Japanese kamishibai to the US. We were immediately attracted to her outstanding artwork and the sincerity and humanity of her stories. She was always accessible to us and other kamishibai storytellers and seemed to be involved in many aspects of the "movement" — including its internationalization — as an author, educator, researcher and advocate for aspiring kamishibai authors.
Watanabe-san loved animals (she had several cats) and many of her kamishibai stories had animal protagonists — The Mother Cat (true story from the US), Nya-on, the Kitten, Run, Balto, Run (story about the origins of the Iditarod Race) and The Tiger's Gift (adapted from a Chinese tale), among others. Both Nya-on and The Tiger's Gift won the prestigious Gozan Prize for the outstanding kamishibai of the year, a rare and impressive record.
She wrote many science-based kamishibai stories about animals and traveled to observe them in the wild. She told us once about her trip to observe the mass migration of crabs to their spawning grounds — which resulted in a kamishibai story about a mother crab and her young. This theme of the relationship between mothers and their children — both animal and human — recurred in many of her stories.
We shall miss her unique talents both as an artist and storyteller. Her stories touched the hearts of children and adults. The Japanese kamishibai world has lost a pillar of the movement.
— Donna Tamaki