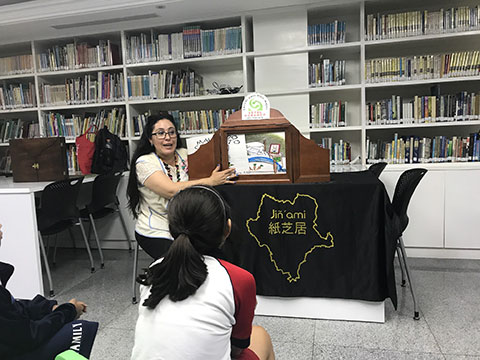 Tell us about yourself, your childhood, overall background, and current occupation.
My name is Maria Fé Ibarra Ramirez. I was born in the municipality of Pánuco de Coronado in the community of Francisco I. Madero Durando, Dgo. Mexico. At the age of three years old, I moved with my family to the capital so my older brothers could pursue their professional studies. My childhood was spent as the youngest of 9 older siblings (Althogether, 6 women and 4 men), and later a younger one. We used to play in the backyard of home with neighbors, cousins, and close friends. We had fun with traditional games: "Yoyo", "Quemada", "Encantados", "Loteria", "Trompo."
My story of reading life arises because my mother made us reunite at the end of dinner at a rectangular dining table where she would tell us stories of mystery and terror that, to tell the truth, I never found out if they were true or not. It was a tradition to tell stories, anecdotes, jokes, legends, before going to sleep. On the other hand, my father liked to read the newspaper to me aloud, while I looked for the words I did not understand in an old and yellowish dictionary that I still have to remember him. I also collected some books by local authors. With the passage of time, I have understood that it was my father's actions that made me transcend my taste for reading and writing and to start in this world of storytelling in a natural way, for pleasure, interest, vocation.
By profession I am Lic. In Law, by the Faculty of Law and Political Sciences of the Juarez University of the State of Durango. I have worked as a teacher, campus director, and six years as a school librarian. I am currently Pedagogical Technical Advisor in the discipline of Spanish in the field of language and communication. I have 20 years of service in the State System of Telesecundarias Durango and in the Educational Sector N ° 6. I was a master's student in Teacher Competences at the Valle de Súchil Higher Studies Center in the State of Durango, and I have been a narrator of Kyoiku (educational) Kamishibai since 2013. I am an active member of the Reading Rooms Program, promoted by the Institute of Culture of the State of Durango since 2013, as well as the Association Alliance of Teachers, Teachers with ALMA A.C. Durango Delegation since 2008. My association with IKAJA (The International Kamishibai Association of Japan) is in process. I am also an altruistic collaborator of the Program for the Mediation of Reading and Writing (PROMELEE) of the Secretary of Public Education of the State of Durango.
In my desire to merge the culture of Durango through the indigenous Odham dialect and Japanese culture, I created a page that I called Jiñ'ami Kamishibai Durango (Friends of the kamishibai Durango) as a site of cultural expression and of diffusion of kamishibai in our state, where we can share this traditional Japanese technique in our educational spaces with all those who want to share their experience of Kyoiku Kamishibai with us.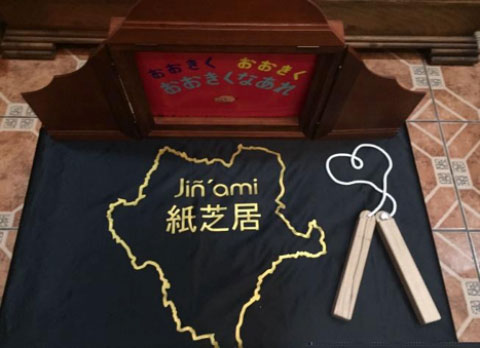 How did you first find out about kamishibai?
Five years ago Kyoiku Kamishibai came into my life in a very peculiar way. I feel that Kamishibai found me. One day, while studying for the Diploma for Reading Room Mediators convened by the Institute of State Culture, when I was looking for innovative and non-conventional reading strategies, I happened to click on a link to a blog "Friends of the kamishibai" of Navarra, Spain, authored by Carmen Aldama Jiménez. What caught my attention was the Kamishibai format and the practical and pedagogical applications that would result in my work as a mediator and as a school librarian. I became more interested in the background of kamishibai and its implications for education, and I found out how fascinating it was in schools in other countries such as Chile, Peru, Argentina, among others. So I made my own butai (stage) of thick and resistant wood and downloaded some adapted stories, which I drew with my students. I remember that the first ones were the adaptation of "The Little Prince" by Saint-Exupery and "The Witch Gertrude," an adaptation of the text "Witch Winnie" by Valerie Thomas and Korky Paul. I was presenting them in my reading room "Reading in circles" in the Civil Association, "Alliance of Teachers, A.C. Durango," as well as in my school library in the community of El Pueblito, Dgo, and in the classrooms of several telesecundarias schools near my school community. I also presented at the Regional Reading Congress organized by the 2014 Alliance of Teachers. I learned how to present kamishibai by watching videos of experts, tutorials, and international presentations, and I met with Mexican narrators from Zacatecas, Tabasco, Monterrey and Coahuila, and Latin American countries like Chile and Peru. I became more and more interested in the pedagogical, didactic and recreational uses of this traditional Japanese format. To this day, I continue to research empirically to strengthen my graduate research project in the field of education.
What made you want to start performing kamishibai?
It's magic, the visual format, combining the script, the narration and interpretation of the text in a different way, giving them life through a different format (discontinuous text) and rescuing the oral tradition. Transfering kamishibai to the classroom allows us to promote interest and pleasure in reading through this tool.
It is a great motivation for me to promote the taste for reading and the creation of texts, illustrations and stories among the participants in the workshops. The pedagogical demonstrations, the fact of fusing the ethnic language of my region with this traditional Japanese technique, rescues the identity of both countries. It also promotes language development and reading skills in our basic education classrooms.
Do you make your own stages? How do you use the stage in performance?
Just last Christmas I received from the hands of my older brother, an unequaled and incomparable gift: the original Japanese butai (stage) that I use to this day. It has become my reading accomplice, and I carry it with me always from here to there, trying to find new readers of any age. They meet the stories hidden within its stage, showing its magic behind its doors and giving the stories life. I have implemented workshops with English teachers and special education teachers, librarians, students and the general public to create, design, elaborate and interpret in public. Through demonstrations and pedagogical modeling, I work with each group, taking as my main axis the learning level of the degree or group suggested. To make stages, we have used boxes of cereal, boxes of packaging of domestic appliances to develop some unique pieces. For example, the merger of the Tepehuana ethnic group and the Japanese butai is expressed when the craftsmanship is shaped by the typical fretwork that identifies the Tepehuana region that includes the municipalities of Mezquital, Pueblo Nuevo, Guanacevi, Súchil and Vicente Guerrero.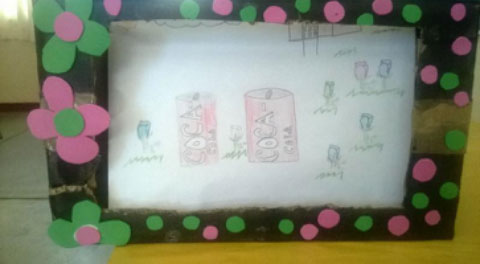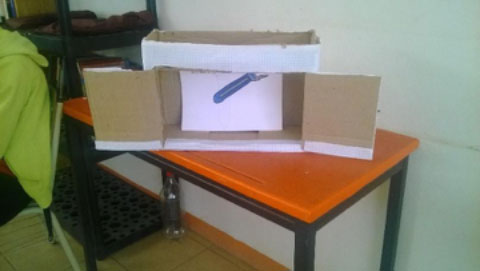 How do you develop your stories?
During the workshops, we work collaboratiively to address texts in the academic curriculum. According to the grade and the group and the role played by the participants, they make a first reading of the text and adapt the story by making a summary. We review the most relevant parts of the story and paraphrase the text to adapt it by image. Then it is designed and illustrated and finally presented to the public. I emphasise the pedagogical strategies and the continuous and discontinuous text, using worksheets to help the students identify such indicators as author, editorial comments, main and secondary characters, setting, moral values, and academic transferability to their other subjects and classroom space. I especially try to elevate the work of our Durangueñeidad (word that refers to someone from the State of Durango) by choosing books by local authors and transforming them by hand into educational kamishibai.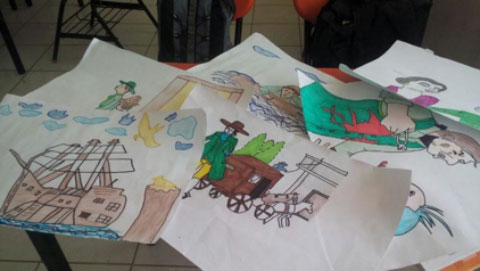 Do you have a favorite story or kind of story?
I really like stories for children's and youth. Some of my favorite texts are "Elmer" by David McKee, "El Topito birolo and everything that may have fallen on his head" by Werner Holzwarth and Wolf Erlbruch; "A spare flower for mom" by Rebeka Elizegi, "Grow, grow, grow as big as you can" by Noriko Matsui and "The bad-tempered cook," also by author and illustrator Noriko Matsui. Another favorite is "Momotaro, the peach boy" author Miyoko Matsutani and illustrator Eigoro Futamata. I do not yet have texts of my own creation in kamishibai or in other formats that have not yet been published.
Whom do you see as your audience for kamishibai?
The general public of all ages, from early childhood to literate to older adults to share in a playful, creative, and recreational way the life stories offered by kamishibai as a visual format to all audiences. We have shared kamishibai in public and private schools, schools of basic education, parks, gardens, hospitals, orphan girls' homes, nursing homes, public squares, libraries, international festivals and museums.
What do you think kamishibai offers this audience and what has their response been when you have performed?
It offers its magic, and also prediction, expectation, argumentation and inference. By listening to the narrator through the sequence of events and the manipulation of the cards in rhythm and direction that holds the viewer with the life that the narrator gives to the piece. It also carries a message to the audience of universal values. The response has been very positive and accepting of this traditional form of storytelling since in our city this tool of reading mediation is new to most people. Also, because of its portability, it allows the storyteller to take it to all around our state to be enjoyed in outdoor presentations.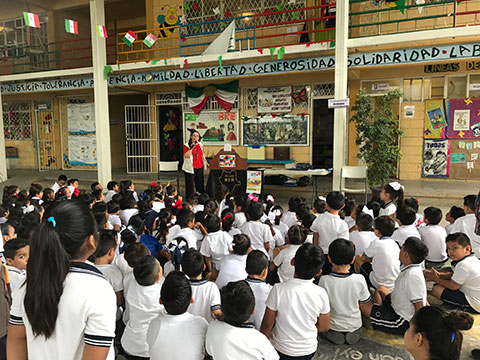 How is kamishibai similar to and/or different from other storytelling forms that are available to you in your country?
Sometimes teachers tell me that they like to make stories on a big roll of paper, and they found it to be very similar with kamishibai.
It is totally different from what I personally had worked with as a mediator of reading, as a teacher and as an oral narrator. For me, it is a unique tool that rescues the Japanese uses and customs and merges with our Durango traditions through the rescue of stories for be adapted to this educational resource that greatly contributes promoting interest of reading in the audience to which it is presented. It awakens amazement of how we can transmit as narrators the experience of art with reading to promote improvement in the educational field of their learning processes.
What are your plans going forward for performing kamishibai or making them available to others?
That the public inside and outside my city and country learn about Kyoiku kamishibai; from our experience, we will continue working on training and updating through the different instances, associations and festivals, continue to contribute with the dissemination of this traditional way of telling stories to continue generating kyokan (shared feeling) among audiences and encourage their interest in kamishibai.
Is there anything else you would like to add?
I would like to thank Kamishibai for Kids for this opportunity to share my educational experience with kamishibai in our city and make known how it has strengthened the interest and the pleasure to continue reading. I would also like to thank Dr. Tara M. McGowan for her valuable contributions to my approach to Kyoiku kamishibai, as she has been one of my main inspirations for continuing to cultivate kamishibai among the audience attending presentations and workshops. I feel the same about LCC Maria Teresa Farfán Garcia, for her advice and support in this wonderful world of kamishibai, and Sakiko Yokoo, for sharing her secrets of kamishibai in such a playful, creative and fun way that she gives us a lot of motivation to continue promoting this resource in our educational field. Finally, in the same way to all teachers and students who have contributed a grain of sand in my city so that we can continue growing as jiñ'ami Durango (Friends of the kamishibai Durango) as a site of cultural expression and of diffusion of kamishibai in o kamishibai Durango. (Friends of Kamishibai Durango). Thank you!!
In social networks you can find me as:
Facebook: Maria Fé Ibarra Ramirez and on the page jiñ'ami Durango
Email: certi_hdt@hotmail.com