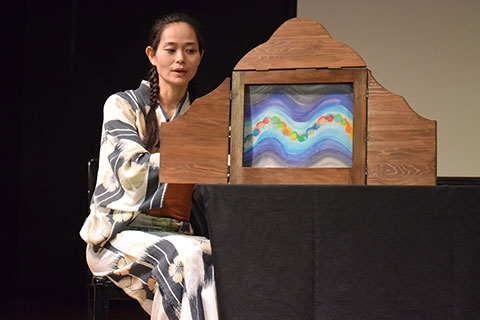 Tell us about yourself, your childhood, overall background, and current occupation.
My name is Sakiko Yokoo. I am a dancer, choreographer, storyteller and producer. I was born in Yamagata prefecture, Tohoku, Japan, in 1979. I grew up in the countryside of Yamagata. I used to play in the garden climbing apple trees, making flower crowns and etc.
I studied dance education at Ochanomizu Women's University graduate school. I established a non-profit organization called "Teo tsunagu Mexico to Nippon," whose mission is cultural exchange between Mexico and Japan. Since 2011, I have been a contract artist for the Mexican Agency for Cultural Affairs. From 2013 to 2014, I was professor in the faculty of art at Michoacan State University, and today, I am professor at the Michoacan Drama Center.
How did you first find out about kamishibai?
I don't remember well...maybe when I was a baby, but I do remember that our teacher used to tell us kamishibai stories in kindergarden.
What made you want to start performing kamishibai?
As a way to present Japanese culture in Mexico. Actually, my Mexican husband encountered a kamishibai artist in the streets of Yanaka, downtown Tokyo, and said, "Amazing!!! We have to study this art form and spread it in Mexico!" We started to study with Ms. Eiko Matsui, who is a great creator and teller of Kamishibai.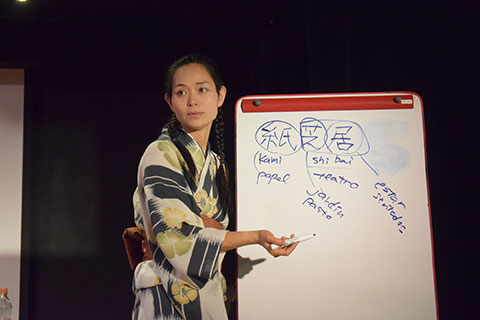 Do you make your own stages? How do you use the stage in performance?
Sometimes I perform, using my stage on my bicycle.
How do you develop your stories?
I try to analyze the audience, their age, interest, and the theme of the event and etc. in order to create the story. In the performance, I always try to interact and converse with verbal and non-verbal communication (eye contact, or ma[pauses]; rhythm and silence, etc. These help to inspire "Kyokan" (a sense of shared feeling) in the audience. I think that my dance experience helps so much when performing Kamishibai.
Do you have a favorite story or kind of story?
Exotic legend, Pieces with interaction
Whom do you see as your audience for kamishibai?
Everyone, from babies to great grandmothers.
What do you think kamishibai offers this audience and what has their response been when you have performed?
Kamishibai is a kind of Magic, so it's not only for kids. As well as many oriental cultures, Kamishibai has something inexplicable. So I always try to take care when presenting these mysterious things to communicate with my audience and to make a special atmosphere. Their response is indescribable, but very positive and harmonic.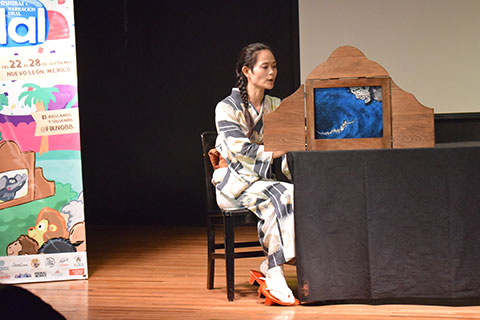 What are your plans going forward for performing kamishibai or making them available to others?
I would like to develop more kamishiabi for babies [abstract and sensory stories] and for adult.
Is there anything else you would like to add?
I am so happy to have many friends, who are passionate about Kamishibai. Thanks!
Facebook: https://www.facebook.com/JapanEmb.Mexico/videos/2038301759543817/?id=1000522255
Tumbler: http://teotsunagu.tumblr.com/
Email: teotsunagu@gmail.com